Guess what? I was featured on a blog I follow! Awesome-feeling-time! :D

I entered the 'Florrie's Floral Festivities' competition with my 'I Didn't Promise You a Rose Garden' look (unfortunately I didn't win *sad face*) but I was still featured! I was in with a really good mix of other bloggers, and it was really great fun taking part :)

Thanks Florrie! x
The blog is Intrinsically Florrie and she's great, it's definitely worth checking her out. Oh if you do, totally check out her artwork, it's amazing! :)

Oh yes, something else that's new is my new outfit post on Lookbook and Chictopia. This is another photo from a couple of years ago, it's from a trip we took to Lady Dixon's park, in the middle of the Rose Week Festival. It happens once a year, and there's loads live music, bands, and other crazy entertainment (usually supplied by the circus school lol).

Seeing it was a flower festival and the middle of Summer, I couldn't resist the bright colours and general Summeryness of this outfit!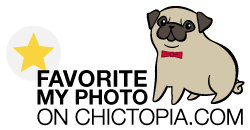 I'm wearing a bright Yellow Pop Art t-shirt from Primark./DIY shorts from Tesco./ Green Wellie boots from B&Q./ And my hat and bag are both from independent traders at craft fairs.
I've got a really good response to this outfit, so I'm hopefully just starting to make my mark on the online fashion world...eventually I'm hoping to build up a collection of followers on here...but for now mainly talking to myself xD

I'm off now to nom on some delicious spaghetti and meatballs, hope you're all enjoying these bright evenings!

Walabean x